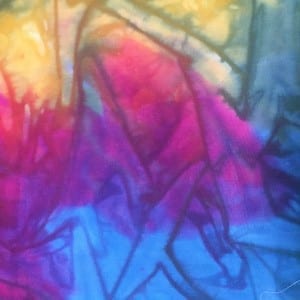 These workshops will give you all the skills required to become an expert dyer.
Dye Day – One Day Workshop – Learn to dye a beautiful rainbow, a single colour gradation, a two colour gradation, multicoloured parfait fabric and matching threads. You will have many metres of your own beautiful hand dyed fabrics to take home.
Suitable for all skill levels.
Techniques
Basic theory of dyeing with Procion MX dyes
Preparation of everything needed for dyeing
Colour theory
Dyeing a 12 step rainbow
Gradation from light to dark
Two colour blend
Parfait dyeing
Thread dyeing
Materials fee of $35 per student to cover costs of all fabrics, dyes and auxiliary chemicals and equipment
For more information or to book this workshop for your shop, quilt or group, please contact Lisa Walton at Lisa@dyedheaven.com