CLASSES & LECTURES CURRENTLY AVAILABLE WITH LISA
On Demand Classes – these are prerecorded workshops complete with videos and detailed instructions which you can do at your own pace. There is lifetime access for these classes
Live Zoom Classes – these are workshops which are live and run through the Zoom Platform.
They are usually 6hr in length and broken into 2 x 3hr sessions
Limit of 24 students
In Person Classes – these are workshops held live and in person. They are either booked through a Guild or store or in Lisa's home studio. See below for the full range. Click HERE for current schedule of available classes
Lectures – these are currently only available online
Downloadable ebooks – these are downloadable PDF files in a variety of topics
---
Check the Calendar to see where these classes are being held or if you are interested in booking Lisa to run a workshop or lecture please click HERE to contact her.
---
Our quilt guild had the pleasure of hosting Lisa Walton for her "FANTASTIC FUSION" workshop via Zoom.

The workshop was so much fun, and everyone loved learning the technique.  The results were fabulous, and one would never know that it was our first time during fusible improv.  Lisa was an excellent instructor, very personable, and gave good suggestions and ideas when needed.  The entire process was so relaxing and easy to do, and it really helped to trigger our creative abilities with very little effort.

I would recommend this workshop to anyone who wants some relaxing and creative fun, yet walk away with an extraordinary and unique project.
From the first minute of class, Lisa Walton creates a relaxed atmosphere that opens up right-brain inventiveness. Her manner is reassuring and inspiring at the same time – somehow even over Zoom, she makes sure that everyone has equal time for show and tell, discussion, and questions. I'm looking forward to more classes with this great teacher!
Lisa Walton
2022-01-29T15:14:24+11:00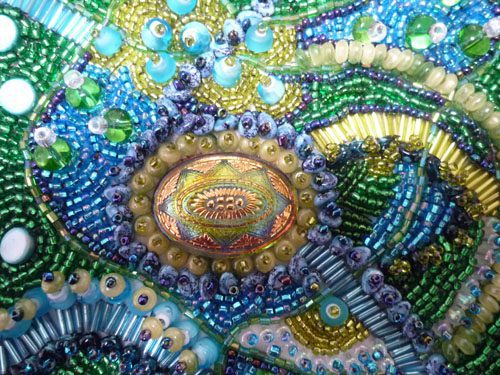 Learn the basic beading stitches in this quick & easy series of videos. You will be embellishing your textiles and quilts in no time. CLICK HERE TO FIND OUT MORE