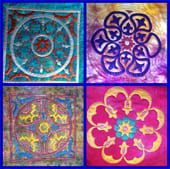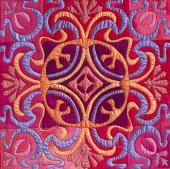 Here is an opportunity to combine fabric painting and easy quilting to create an original overlay quilt. No experience in fabric painting or free motion quilting required.
Can be run as a one or two day workshop.
One Day Workshop
Students use a hand dyed or commercial background and will be provided with a choice of designs.
Design will be overlaid onto quilt sandwich and quilted through using walking foot and free motion quilting techniques. This is a great opportunity to try free motion quilting even if you have never done it before. Suits all levels of quilters.
Quilted design will then be painted to create an interesting panel suitable for a cushion or centrepiece of a larger quilt.
Two Day Workshop
Students will be provided with a selection of surface design tools including fabric paints, stencils, stamps and silk screens to create a variety of original fabric
Fabrics will be stitched into a simple collage background which will then be used as the background as for the one day workshop.
Skills
Fabric painting both transparent and opaque styles
Free motion quilting
Fabric painting (Two day class)
Collage (Two day class)
Materials fee of $30 for Two Day workshop can be added to supply all paints and fabrics
For more information or to book this workshop for your shop, quilt or group, please contact Lisa Walton at Lisa@dyedheaven.com