Sometimes when you are struggling to find inspiration for a theme something just happens and presents itself as the perfect thought.
I have been dealing with getting my mother settled into a new lifestyle and this meant clearing out years of memories. When going through a pile of photos I came across this one of my husband and daughter by the water. My daughter is now in her thirties so this was a very old image. My husband just looked like he was contemplating the future – yes even from the back and along with the reflections in the water I just immediately thought of how we sometime stare into the distance reflecting on past and present.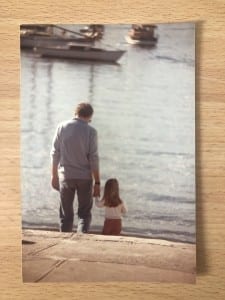 Reflections
30″ x 40″
Hand dyed cotton and hand painted silk organza
Raw edge fused techniques.
Free motion quilted.
Read more about this quilt at the Cloth in Common Blog