One of my silk scarves wasn't all that good. The pole wrapped shibori technique I had tried on it didn't reach all thicknesses so there was only a little bit of patterning at the ends which were closest to the outside and the dye colour was a bit in your face too.
So I had some dyes left over and as I never like to waste anything I thought I would have another try.
First I folded it in half lengthwise and then by width to make a long skinny strip and then into triangles. I could have been more accurate and ironed them precisely but that is not my style and it was a bit too hot outside.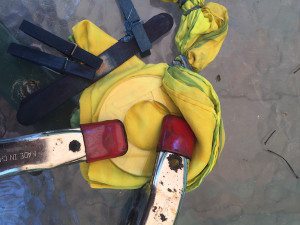 I used some of my itajime shapes (two donuts) and clamped them with strong clamps. Sometime I use less strong ones and the clamps don't act as a resist all the way through. A few rubber bands for a scrunch texture and my trusty tongue depresses and a few pegs as well .
The colours were a bit muddy but I really didn't like the brightness of the scarf
I left it to batch overnight and in the morning I rinsed it until the water was clear before undoing all the clamps and ties.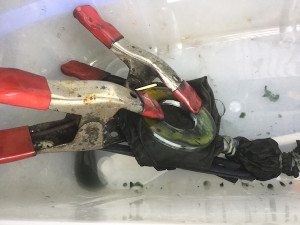 I think it looks a lot more interesting now and if you would like it, is available in the Gallery Store now along with other beautiful silk and cotton scarves .